Please contact Jackson Electric before purchasing an electric vehicle. Because you are adding load to your location, we need to confirm your transformer is sized properly. Your electrician will confirm if your home's electrical service will need to be upgraded. Jackson Electric does sell EV chargers that are programmed to operate during off-peak hours. An off-peak rate is given if Jackson Electric is able to manage the EV load. Your electrician will need to install the charger.
According to the U.S. Department of Energy, electric vehicles (EVs) cost less to operate so the higher initial vehicle cost can be offset over the lifetime of the vehicle. The efficiency comes from the drivetrains and electricity is less expensive than gas or diesel fuel. EVs are powered by energy that is stored in one or more batteries. The batteries are charged either by plugging in the vehicle and also by regenerative braking. Most of the charging of electric vehicles is done at home.
Range anxiety is one of the reasons many shy away from the purchase of an EV. Depending on driving conditions and the vehicle's model, EVs can travel up between 100 and 400 miles on one charge. According to the National Highway Travel Survey, 90% of all U.S. household trips cover less than 100 miles. Cold weather driving and operating the A/C will decrease your mileage. However, some travelers are happy with the 200 mile range so they can get out of the vehicle, stretch, and enjoy a bite to eat.
Public Charging Stations in Jackson County
Level One:  The most basic charging level. Your EV will most likely include an adapter that plugs into a typical 120-volt outlet. This is the easiest and probably the least expensive charging solution, but it will take much longer to charge your EV. Charge time is 3-5 miles per hour.
If you don't plan to drive your EV daily, this charging option may work well for you.
Level Two:  This is about three to five times faster charge than a Level One, but does require the purchase and installation of a residential EV charger. The charger is plugged into a 240-volt. If you don't have a 240-volt outlet, it will need to be installed by your electrician. Charge time is 10-20 miles per hour.
Direct Current Fast Charger (DCFC):  These type of chargers are typically seen near high-traffic public areas rather than homes. This is the fastest charging level with the ability to charge an EV at 80% in under 30 minutes. Charge time is 60-80 miles in 20 minutes.
Yes, Jackson Electric sells EV chargers. You have two options:
60 amp with a maximum output of 11.5 kW (240-volt). This will most likely take care of most of your EV charging needs.
 
80 amp with a maximum output of 15.4 kW (240-volt). This unit will charge faster than the 60 amp but also costs a bit more.
Please contact our office for current pricing.
The standard plug type is the J1772 for most electric vehicles. When purchasing an EV, you may want to request a fast charger adaptor. This will cost a little bit more, but you'll be happy you have one when you travel and need a quick charge. With this adaptor, you'll be able to plug in to the DC fast chargers' CCS plug.
Only Tesla EVs can plug into the Tesla chargers; whereas, a Tesla EV can plug into the standard plugs using an adaptor.

Jackson Electric offers an off-peak electric vehicle charging rate to residential members who purchase an EV charger from the co-op. This charger is programmed to interrupt charging 1:30 p.m. to 9:30 p.m., Monday-Friday.
Facility charge:  $5.00 per month
Energy charge:  $0.075 per kWh
If you have purchased a charger from a vendor/dealer other than Jackson Electric, you may receive the off-peak charging rate under the following conditions:
Install an additional meter with a socket extender and receiver (installation by Jackson Electric).
Receiver is programmed to interrupt charging 1:30 p.m. to 9:30 p.m., Monday-Friday.
Costs for additional materials and labor will be charged to the member if the service has to be upgraded to accommodate the additional load.
If the meter shows reads during the peak period, the kWhs will be charged at the residential A9 rate.
Socket extender has a one-year warranty which does not include the labor cost to replace. After the warranty has expired, the member will purchase a new socket extender at Jackson Electric's price plus the labor to install.
No rebate is available.
Member will pay the costs for the meter, socket extender, receiver, and labor to install.
Site visit required by our operations department to determine additional materials, fees, etc.
Jackson Electric offers a $800 rebate when a member purchases an electric vehicle charger with integrated metering from Jackson Electric. The EV charger must be controlled by the cooperative's energy management program to qualify for the rebate.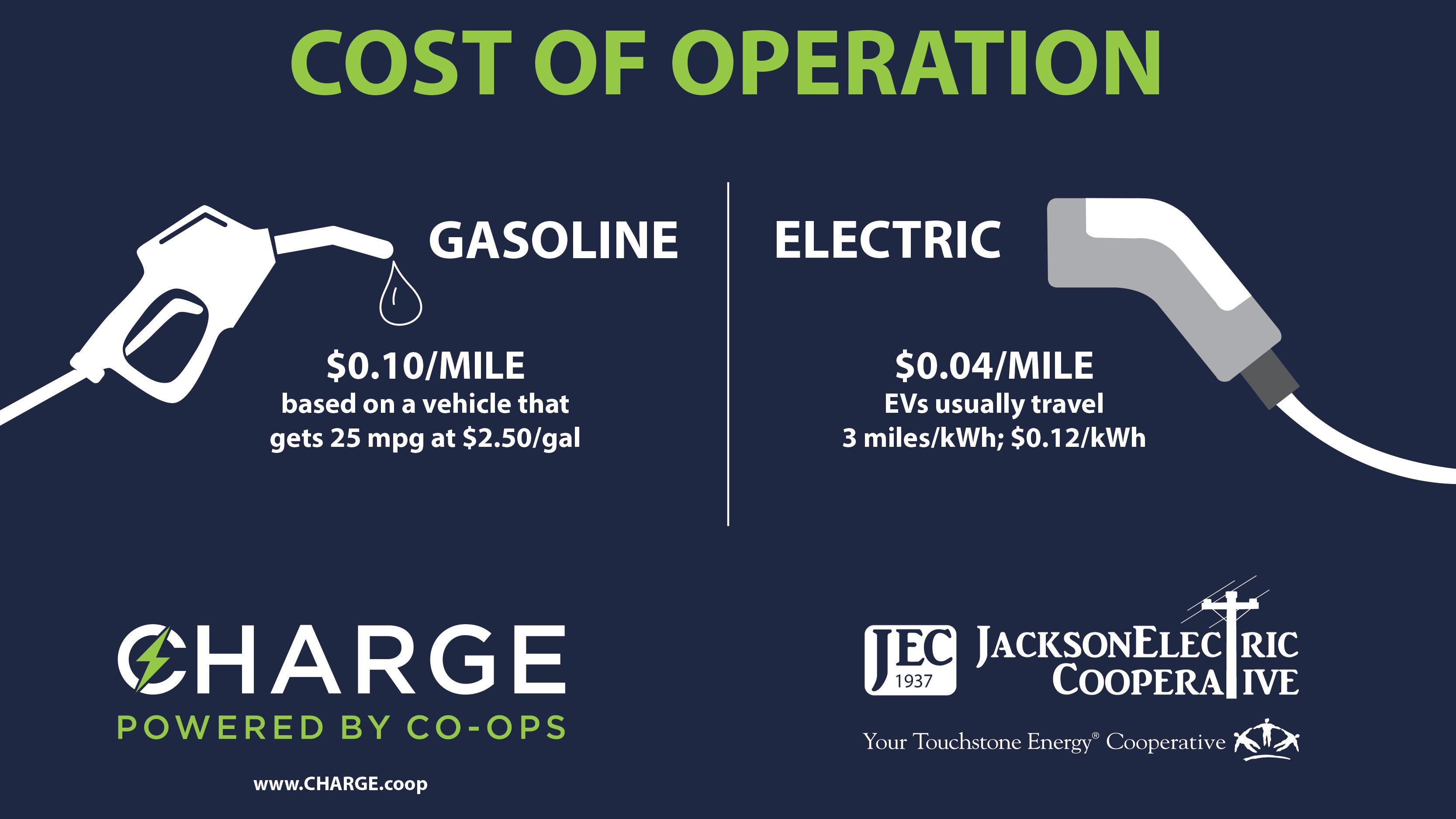 Quote
"Actually driving an EV is something that will change you after having done it," says a Jackson Electric member who owns an EV.

Our members give the best reviews of their EV driving experience. Read their stories in the September 2022 magazine.