Emergency Load Reduction events are issued by the regional transmission operator, the Midcontinent Independent System Operator or MISO, when grid reliability may be at risk. In other words, the amount of electricity available on the grid is critically low and may not be able to meet the demand for electricity. This could occur for multiple reasons:
Extreme temperatures
Severe weather conditions
Generation resources (power plants, solar/wind facilities, etc.) are unexpectedly offline or unavailable
Higher-than-projected need for electricity
Transmission line congestion
Jackson Electric's power supplier, Dairyland Power, is a member of the Midcontinent Independent System Operator (MISO), which is a regional transmission organization that ensure reliable, cost-effective delivery of electricity across all or parts of 15 U.S. states and Manitoba, Canada. Dairyland Power generates electricity, sells it on the MISO market, and then buys it back at a regulated price to distribute to its members. If there is a high demand for electricity on the grid, MISO can issue Dairyland to reduce its load.
Dairyland serves 24 electric cooperatives to include Jackson Electric.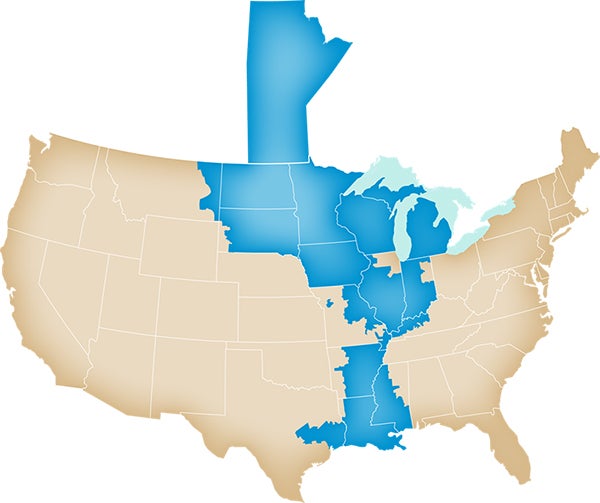 Full Load Control or Peak Alerts are issued by Dairyland Power Cooperative, our wholesale power provider, to help reduce electricity demand on the grid and help save money on future wholesale power bills.
Full load control events are issued only during the summer (June, July, August) and winter seasons (December, January, February) at pre-determined scheduled start times. Members with energy management receivers have their devices automatically controlled during the full load control events.
Load Reduction Events (emergency power outages) are issued by MISO for grid reliability.
These can be called at any time for any duration of time with minimal advance notice.
Members with energy management receivers will have their devices automatically controlled during these events. Members enrolled to receive energy management notifications will be notified of an event.
All members could be affected by the power outage if the grid is at risk of collapsing.
If a warning is declared by MISO, Jackson Electric will prepare their load reduction plan for initiation. Jackson Electric will determine which substations, circuits, and phases can be shut down where members will be without power for a period of time. 
In the meantime, Dairyland Power will signal energy management receivers to interrupt water heater elements, cooling and heating systems, and commercial loads may have to operate their generators. If this amount of load shedding does not relieve the demand on the grid, MISO may declare emergency power outages to protect the grid's integrity.
If you have a medical necessity for electricity and do not have a generator, we recommend the purchase and installation of an automatic standby generator or have an alternative place to stay that has power.